Nigerian customer visited our company
Views:21 Author:Site Editor Publish Time: 2020-10-16 Origin:Site
Xi'an Arcmoon Brand Management Company has been engaged in the export of Chinese characteristic products for several years, aiming to provide global customers with high-quality and low-cost products.
Nigerian customer Martyns visited our company. Martyns has been engaged in the import and export of health products in Nigeria for many years, and has a deep understanding of Chinese herbal medicine products. With years of industry experience, he has great confidence in Chinese herbal medicine products. "Even though I have acted for many kinds of Chinese herbal medicine, although there are Chinese herbal medicine products from other countries, I still feel that these products in China have the best effect and have less side effects. The traditional Chinese medicine culture is amazing."
Martyns's inspection is divided into two aspects, one is the inspection of the company and product qualifications, and the other is the inspection of the production site.
The series of health care products exported by our company have the legally qualified licenses issued by the relevant departments of the Chinese government. They have also been tested in the Chinese market for decades. They are safe and effective, and are unanimously recognized by consumers.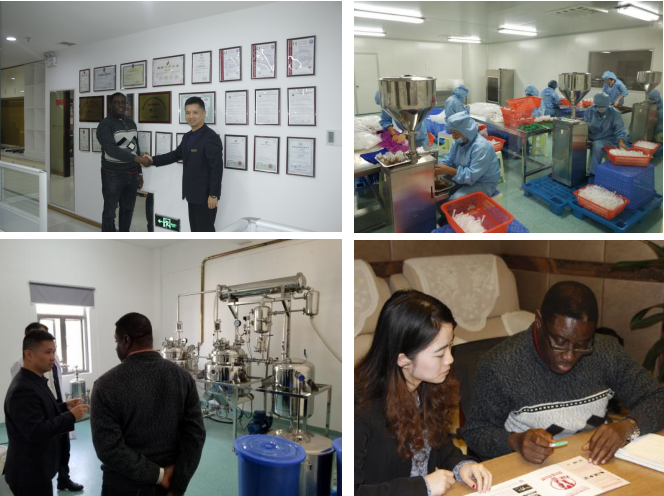 Accompanied by our company's CEO Alex Zhang, Martyns visited the raw material processing workshop, the machine filling workshop, the manual packaging workshop, the finished product disinfection workshop, etc., and praised the strict standards of the product manufacturing process and production process. Consumers are symptomatic and needy. The strict production process and standards allow me and my consumers to use it with confidence."
During the visit, the customer also had a detailed understanding of the company's Chinese herbal medicine ingredients and pathology, inspection standards and other links. After the site visit, the customer went to the company's meeting room to check the relevant quality system information, consulted on the professional knowledge of Chinese medicine, and had questions about the customer Relevant personnel of our company answered all the places where the communication process was very harmonious.
After the visit, the customer was very satisfied with the overall evaluation of our company, and the two parties have reached a comprehensive cooperation intention.